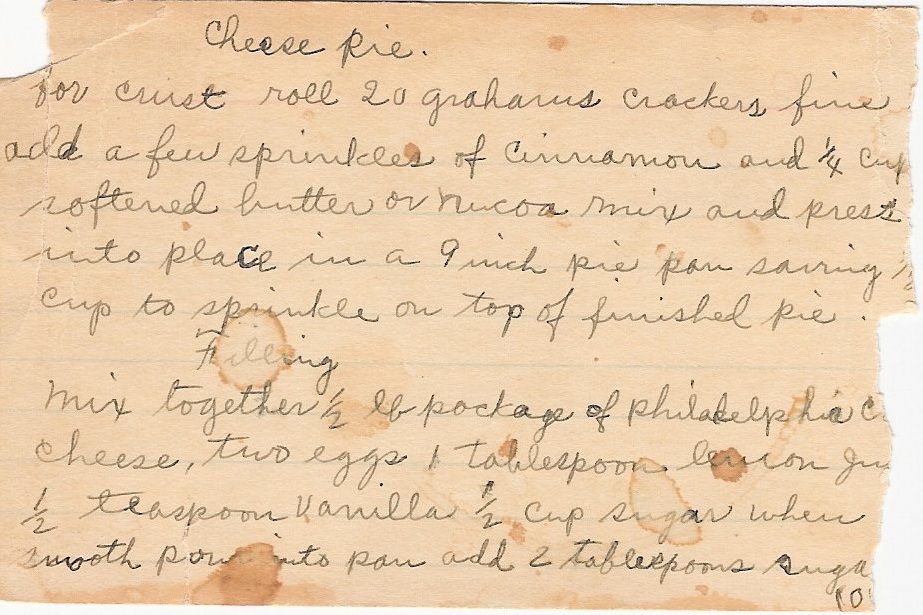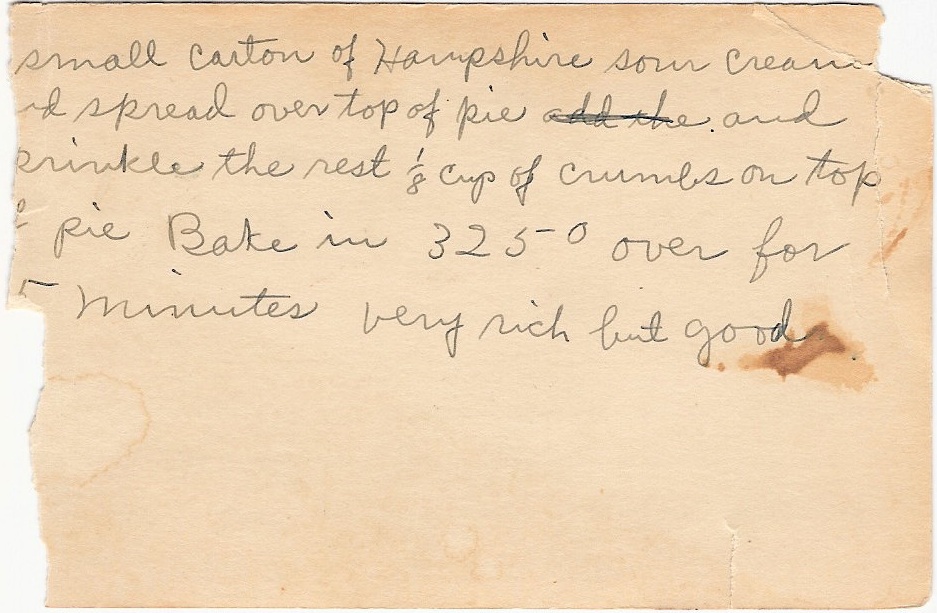 Cheese pie… cheese cake… Similar, though slightly different.  My mouth was delighted to gobble this for my birthday.  Today was a perfect day.  The sun paid us a visit (thank you Summer!), Sean enjoyed his first day at swimming lessons, and my birthday "cheese pie" turned out delicious.
I encountered a few small (though solvable) hiccups whilst whipping up this cake.  The first was my uncertainty when reading "20 graham crackers."  Apparently Great Grandmother meant squares, not rectangles.  Thus, the recipe was doubled.  Fortunately I had exactly enough ingredients to make a larger cheesecake in a springform pan.
The third hiccup… my cream cheese was too stiff to follow Ottie's method.  It refused to cream together, and remained an unappealing curdled puddle in the mixing bowl… I then turned to my blender for help.  I will continue using a blender for this recipe in the future; it worked perfectly and simplified the process to my preferred level of laziness.
My greatest challenges were born from the disintegrating recipe card. For instance, the bake time was no longer in tact to guide me. Instead, my mumsy pulled out her own cheesecake recipe (a more complex, though similar, cheesecake) and we used that as a guide. Mumsy's recipe filled-in where several areas in Ottie's were missing.
Mumsy also told me of when my grandmother (Ottie's daughter) was dying. Grandmother begged for her mama's "cheese pie." It was her favourite, and my mumsy made it several times, until Grandmother couldn't eat it anymore. In fact, my Grandmother had Ottie's original recipe card, which is how we received it, whereas the rest of Ottie's recipes were gifted to me from Cousin Lois.
This version of cheesecake is pretty simple.  Extremely simple, might be more accurate.  As I said earlier, the filling can be whipped up in your blender.  I'm going to provide the recipe that fills a small 9-inch pie pan.  The version I made filled a spring-form, and only requires that you double the recipe.  Simple simple simple, either way.