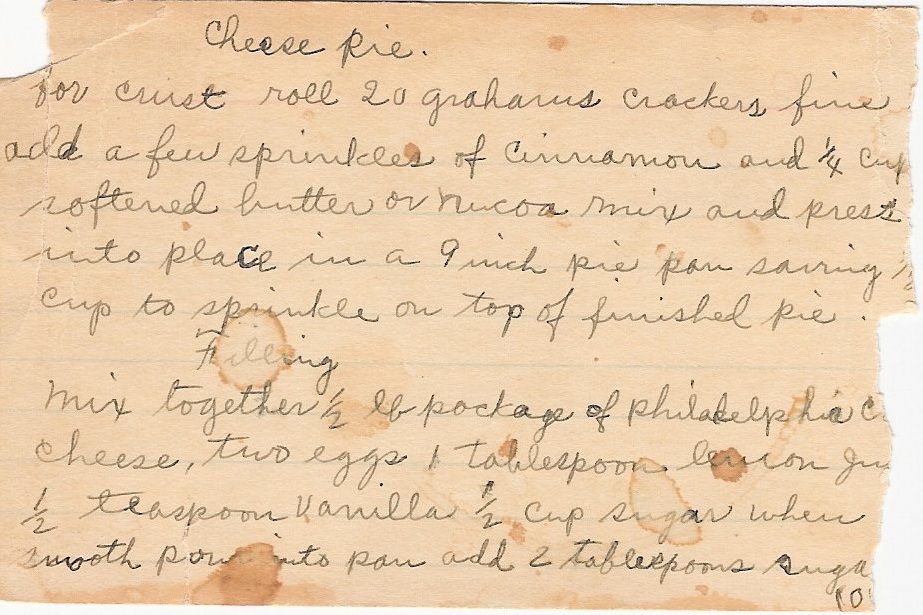 Ingredients
Crust
10

Graham Crackers, crushed fine (Full rectangles. Double if your graham crackers are square)

1

pinch

Cinnamon

1

dash

Salt

2

teaspoons

Sugar

1/4

cup

Salted Butter, melted
Filling
8

ounces

Cream Cheese, softened

2

Eggs

1/2

cup

Sugar

1

tablespoon

Lemon Juice

1/2

teaspoon

Vanilla Extract
Topping
2

tablespoons

Sugar

4

ounces

Sour Cream
Method
Combine ingredients for the crust.
Take out 1/8 cup of the crumb mixture, and set it aside.
Evenly press the rest of the crumb crust into a 9 inch pie pan.
Preheat the oven to 325 degrees.
Mix the topping (2 Tablespoons of sugar and 4 ounces of sour cream), then set aside.
Combine the filling ingredients in a blender until smooth.
Pour the cheese mixture into the pie pan.
Either glob, spread, or pipe the sweetened sour cream topping onto the cheese filling. It does sink a smidgen. Piping it on would provide for slightly more even distribution. However, it turned out fabulous globbed haphazardly everywhere.
Sprinkle the remaining 1/8 cup graham cracker crumbs over the top.
Bake for about 55 minutes, or until it doesn't look "soupy" in the center. It should appear somewhat firm around the edges. Cool for about 30 minutes on a rack, and then refrigerate to finish cooling.