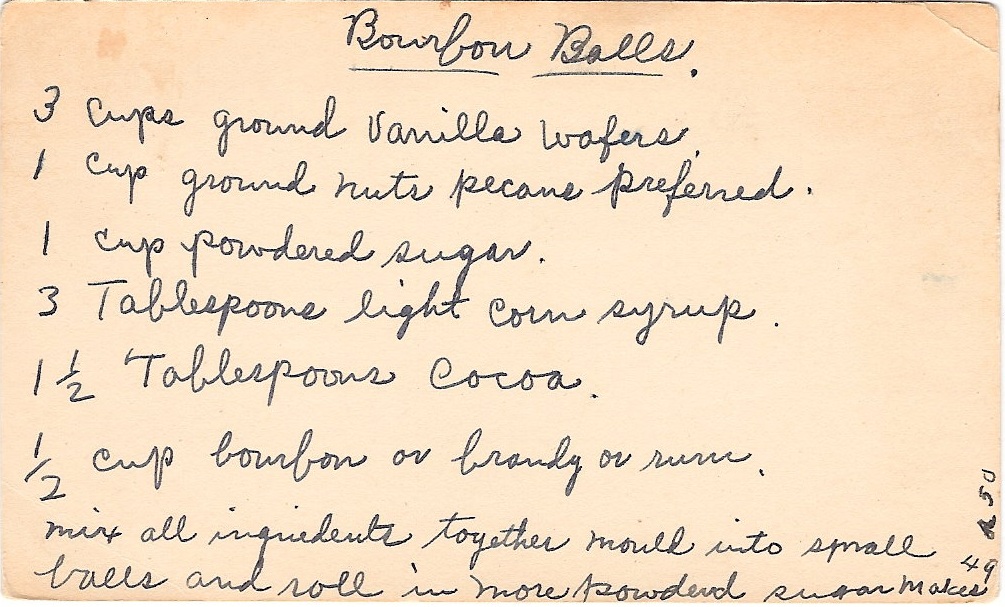 Ingredients
3

cups

ground Vanilla Wafer Cookies (Nilla)

1

cup

ground Nuts (I prefer toasted pecans)

1

cup

Powdered Sugar

3

tablespoons

Light Corn Syrup

1 1/2

tablespoons

Cocoa Powder

1/2

cup

Bourbon, Brandy, or Rum (I prefer dark rum)

1

cup

Powdered Sugar (for rolling the balls in afterward)
Method
Combine and sift the dry ingredients (this also helps to sort out the extra large cookie chunks).
Stir in the liquid ingredients and fold in the nuts. The cookie crumbs will gradually absorb the liquids, thickening the batter significantly over the next few minutes.
Place the 1 cup of powdered sugar in a bowl or shallow pan. Depending on the stickiness, either form the dough into 1 inch balls then roll in the sugar… or drop the batter into the powdered sugar then form the balls. Coat the balls well in the sugar.
Store in a well-sealed container. I keep mine in the refrigerator.